Aruba ClearPass Onboard

Automated mobile device provisioning and configuration for secure BYOD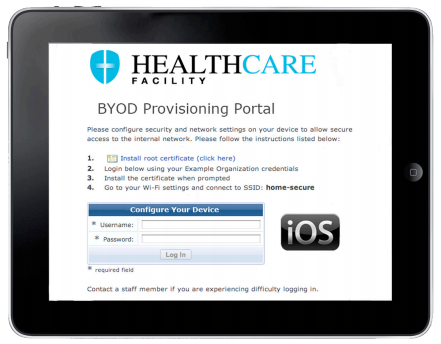 Aruba ClearPass Appliances
Onboard Device Provisioning License for Aruba ClearPass Policy Manager
Onboard License for Aruba ClearPass Policy Manager - 100 devices
#JW577AAE
List Price: $3,500.00
Add to Cart for Our Price
Onboard License for Aruba ClearPass Policy Manager - 500 devices
#JW578AAE
List Price: $17,000.00
Add to Cart for Our Price
Onboard License for Aruba ClearPass Policy Manager - 1,000 endpoints
#JW579AAE
List Price: $29,750.00
Add to Cart for Our Price
Click here to jump to more pricing!
Overview:
ClearPass Onboard automatically provisions and configures personally-owned mobile devices – Windows, Mac OS X, iOS and Android 2.2 and above – enabling them to securely connect to the network in support of BYOD initiatives.
Employees, contractors and partners are automatically given permission to self-configure their own devices. The ClearPass Onboard portal dynamically detects a device's operating system and guides the user through the appropriate steps.
This provides an incredibly simple way to configure wireless, wired and VPN settings, apply unique per device certificates and profiles, and ensure that users can securely connect their devices to 802.1X-enabled networks with minimal IT interaction.
ClearPass Onboard also increases the amount of usable context for troubleshooting, user- and device-based policies, and collected compliance reporting per each device. The result is a streamlined workflow that allows IT helpdesk personnel to efficiently automate multiple processes that are required to successfully carry out BYOD initiatives while offloading IT and improving the user experience.
Automate device provisioning for secure BYOD
We make it easy to automatically provision settings and certificates for network connectivity on Windows, Mac OS X, iOS, Ubuntu, Chromebook and Android mobile devices. This enables them to connect securely to any wireless and wired enterprise network.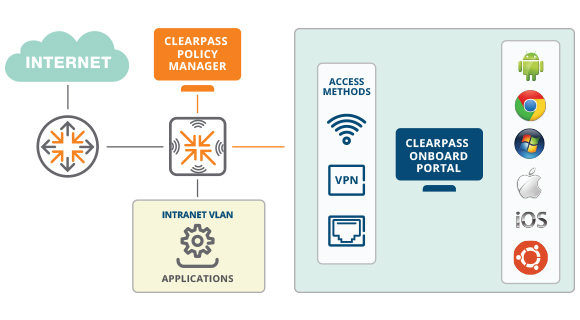 Issue unique certificates for every mobile device
With a built-in certificate authority, you can distribute certificates during provisioning that include user- and device-specific data. You can also utilize any MDM platform to request certs directly from ClearPass Onboard – SCEP and EST (RFC 7030).
BYOD is here to stay. Need help getting your enterprise ready?
Our BYOD planning guide will help with decisions regarding timelines, policies, roles (users and devices), use of device certificates, and other best practices for deploying Aruba ClearPass to leverage third party security defenses, like firewalls and MDM/EMM.
IT controls who connects
BYOD doesn't mean a wide-open network. IT writes the rules about who can connect, from which device and from what location.
ClearPass QuickConnect
Now you can automate 802.1X device configurations for wired and wireless networks without having to create distribution-of-unique-device certificates.
Features:
Enables users to self-register and securely onboard multiple devices
Supports Windows, Mac OS X, iOS, Android, Chromebook and Ubuntu operating systems
Sponsor-based onboarding allows for custom workflows
Active Directory and social login credential authentication supported
Automates the configuration of network settings for wired and wireless endpoints
Unique provisioning and revocation of device-specific credentials and certificates
Contains built-in certificate authority specifically for BYOD
Uses profiling to identify device type, manufacturer and model
Provides BYOD visibility and centralized policy management capabilities
Advantage:
With the industry's most advanced auto-provisioning features, onboarding thousands of devices is amazingly simple through integrated policy management, customizable user-facing portal, and built-in certificate authority.
Automated Policy management
With ClearPass, IT can use context collected during onboarding to enforce device type and ownership-based network access policies. Centrally-defined policies also limit the types of devices that can be onboarded and which user groups can onboard them.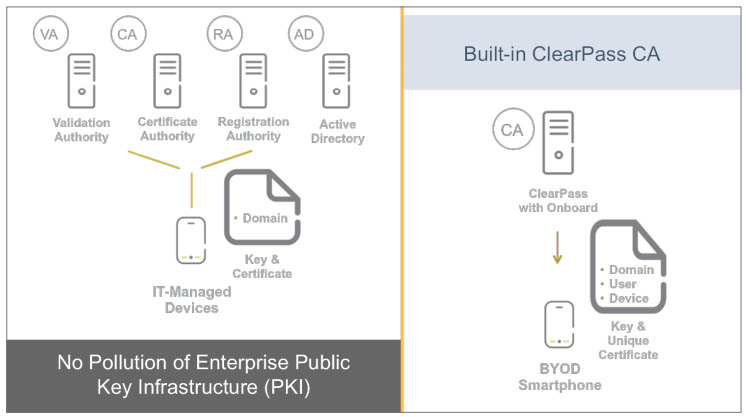 Built-in certificate authority simplifies administration for BYO devices
Flexible workflow options
The onboard configuration process can be managed via sponsor and non-sponsor required workflows. User authentication can prompt for active directory or social login credentials.
Customized device provisioning
A centrally-managed administrator portal allows IT to configure device certificates and trust details, network access, VPN, and health check settings, and authentication protocols for wireless and wired networks.
ClearPass Onboard also define the number of devices that can be onboarded devices per user and how long their certificates are valid.
Advanced Onboarding Capabilities:
Built-in certificate authority for BYOD
The distribution of published device credentials through ClearPass Onboard's built-in certificate authority (CA) safeguards organizations that want to adopt BYOD initiatives's without requiring the implementation of an external certificate authority. ClearPass Onboard issued certificates are unique as they also include specific user and device context.
The Onboard CA provides the option to utilize certificate management without the need to make changes to an internal public key infrastructure (PKI) or active directory (AD).
ClearPass also supports the distribution of Onboard generated certificates requested by third-party applications - mobile device management (MDM) or enterprise mobility management (EMM) - through SCEP and EST (RFC 7030) protocols.
Revocation of unique certificates
Easy-to-use search and menu-driven capabilities ensure the rapid revocation and deletion of certificates for specific mobile devices if a user leaves a organization or the mobile device is lost or stolen. Online Certificate Status Protocol (OCSP) supported.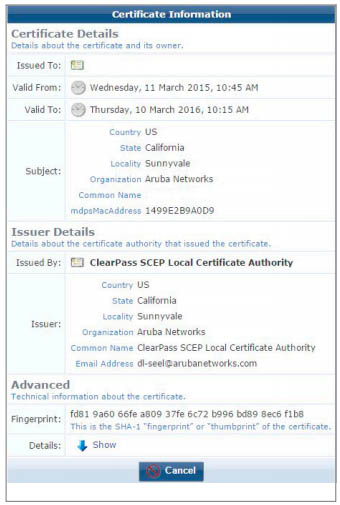 Details of unique credentials for onboard BYOD endpoints.
Ordering Guidance:
ClearPass Onboard can be ordered via perpetual license or subscription that includes ArubaCare for the length of the subscription. Available Enterprise options provide the ability for organizations to flexible use the licenses for ClearPass Onboard, Guest or OnGuard.
Ordering ClearPass Onboard involes the following three steps:
Determine the number of unique endpoints that users will provision within your environment.
Select the total number of Onboard licenses. Anything over the capacity of a base appliance will require the purchase of a second Policy Manager appliance.
Choose the appropriate ClearPass Policy Manager hardware or virtual appliances to accommodate the total number from above.
Example - To support the provisioning 2000 total devices, ensure that Policy Manager platform is sized to accommodate the 2000 devices and any other endpoints that will authenticate via 802.1X, MAC auth, etc.
Purchase the following:
ClearPass Hardware Appliance -CP-HA-5K
ClearPass Onboard - 2 X LIC-CP-OB-1K
Additional Onboard capacity can be purchased at any time to meet growth demands.
Documentation:
Pricing Notes:
Pricing and product availability subject to change without notice.
Onboard Device Provisioning License for Aruba ClearPass Policy Manager
Onboard License for Aruba ClearPass Policy Manager - 100 devices
#JW577AAE
List Price: $3,500.00
Add to Cart for Our Price
Onboard License for Aruba ClearPass Policy Manager - 500 devices
#JW578AAE
List Price: $17,000.00
Add to Cart for Our Price
Onboard License for Aruba ClearPass Policy Manager - 1,000 endpoints
#JW579AAE
List Price: $29,750.00
Add to Cart for Our Price
Onboard License for Aruba ClearPass Policy Manager - 2,500 endpoints
Onboard License for Aruba ClearPass Policy Manager - 5,000 endpoints
Onboard License for Aruba ClearPass Policy Manager - 10,000 endpoints
Onboard Device Provisioning License for Aruba ClearPass Policy Manager, 1 Year
Onboard Device Provisioning License for Aruba ClearPass Policy Manager, 3 Year
Onboard Device Provisioning License for Aruba ClearPass Policy Manager, 5 Year