Aruba Edge-to-cloud security

Gain the advantages of the cloud with consistent network protection
Protect your business from edge-to-cloud
To secure applications and data, enterprises must transform both their network and security architectures to support business applications wherever they are hosted and from wherever they are accessed. But IT teams face challenges:
How to embrace the business and operational advantages of the cloud while maintaining consistent security policies and protections across varying network domains.
How to enforce the same security policies for employees, whether they are in the office or working remotely.
How to ensure that there are no network blind spots and IoT devices are properly accounted for and segmented.
How to eliminate the complex, error-prone VLAN sprawl to segment network traffic.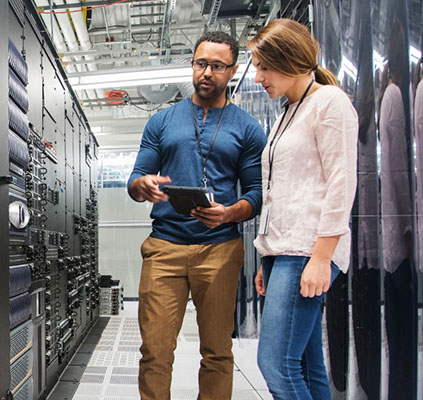 Aruba edge-to-cloud security can help
With Aruba's built-in foundation for Zero Trust and SASE, you can gain the advantages of the cloud with consistent network protection. Here's how.
Aruba ESP is the only architecture that enables organizations to implement an end-to-end network comprising WLAN, switching, SD-WAN, and remote access, all protected by common Zero Trust and SASE security frameworks, built-in from the start. Identity-based traffic segmentation ensures consistent security policies are applied from the access edge to the WAN edge to the cloud.
Manual segmentation approaches become impractical as networks grow in complexity and scale. Aruba Central NetConductor simplifies operations and improves security by providing continuous identity-based access control across network domains.
Designed specifically to deal with the flood of IoT devices connecting to the network, Client Insights uses AI-powered discovery and profiling techniques to eliminate blind spots. Once profiled, devices are automatically assigned the proper access control policy and segmented from other devices via Aruba's Dynamic Segmentation capabilities. This eliminates the complexity of using VLANs to control user and device access.
Aruba's integrated threat defense capabilities cover a wide range of security challenges, including phishing, distributed denial of service (DDoS), and increasingly widespread ransomware attacks. Aruba EdgeConnect SD-WAN and EdgeConnect SD-Branch gateways perform firewalling and identity-based intrusion detection and prevention (IDS/IPS), all reporting to Aruba Central. As a result, both branch office LAN (east-west) traffic and SD-WAN (north-south) traffic are equally and consistently protected.
As organizations continue to migrate many of their applications to the cloud, it is critical that SD-WAN and security solutions adapt to this shift. Modernizing and integrating WAN and security infrastructure yields significant advantages both on the networking and security side. EdgeConnect Microbranch, EdgeConnect Mobile, EdgeConnect SD-Branch, and EdgeConnect SD-WAN solutions provide market-leading SD-WAN capabilities combined with seamless automated integrations with leading cloud-hosted security vendors. This delivers a best of breed, edge-to-cloud SASE solution without compromising either network or security capabilities.