Aruba 501 Wireless Client Bridge

Extending Your Wireless Network Access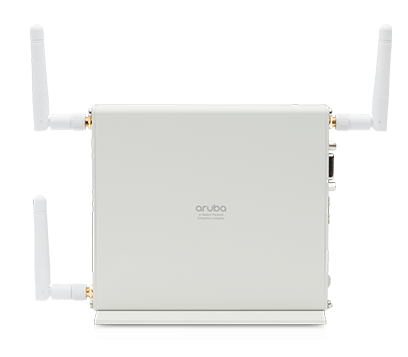 Aruba Networks Products
Aruba Wireless Access Point
Aruba 501 Wireless Client Bridge
#J9835A
List Price:
$455.00
Our Price: $303.70
Click here to jump to more pricing!
Overview:
The Aruba 501 Wireless Client Bridge enables you to easily integrate devices with no native wireless support into a wireless LAN (WLAN). It provides strong enterprise-class layered security features, including an IEEE 802.1X supplicant, to protect the network from intrusions.
The 501 Wireless Client Bridge can bridge up to 15 Ethernet client devices running a legacy networking protocol to the WLAN – extending wireless network access to a wide range of protocols. An integrated serial to TCP/IP converter enables a RS-232 asynchronous terminal device to communicate with a compatible station on the network. Hardware- accelerated encryption provides higher performance when using WPA2/AES security.
This bridge provides the benefits of wireless mobility for devices like electronic cash registers, scales, servers, printers, medical equipment and other devices. It can be deployed in any location where a WLAN signal is available – saving the time and expense of installing Ethernet cables for wired network access.
The 501 Wireless Client Bridge integrates into the Aruba Mobile First solution architecture and is interoperable with the IEEE 802.11a/b/g/n/ac wireless network infrastructure in a multi-vendor environment.
---
Highlights
Link up to 15 Ethernet devices or an RS232 serial device to a wireless network at Gigabit speeds
One dual-band three spatial-stream MIMO radio running up to 1.3 Gbps
Support for IEEE 802.11b/g/n and 802.11a/n/ac WLAN networks
Fast roaming between access points
Web-based configuration
Pricing Notes:
Pricing and product availability subject to change without notice.
Aruba Networks Products
Aruba Wireless Access Point
Aruba 501 Wireless Client Bridge
#J9835A
List Price:
$455.00
Our Price: $303.70
3. ADD ANTENNAS (OPTIONAL)
AP-LAR-1 Nm to Nf Outdoor DC to 6 GHz In-line Coaxial Lightning Arrestor
#JW061A
List Price:
$185.00
Our Price: $133.73
HPE Aruba Foundation Care Next business day Exchange
Aruba 1 Year Foundation Care Next business day Exchange 501
Aruba 3 Year Foundation Care Next business day Exchange 501
Aruba 4 Year Foundation Care Next business day Exchange 501
Aruba 5 Year Foundation Care Next business day Exchange 501
#U3SL3E
List Price:
$55.00
Our Price: $54.38
HPE Aruba Foundation Care 4-Hour Exchange
Aruba 1 Year Foundation Care 4-Hour Exchange 501
Aruba 3 Year Foundation Care 4-Hour Exchange 501
#U3SR9E
List Price:
$55.00
Our Price: $54.38
Aruba 4 Year Foundation Care 4-Hour Exchange 501
#U3SV8E
List Price:
$72.00
Our Price: $70.10
Aruba 5 Year Foundation Care 4-Hour Exchange 501
#U3SZ7E
List Price:
$87.00
Our Price: $83.97
HPE Aruba Services Renewal
Aruba 1 Year Renewal Foundation Care Next business day Exchange 501
#U3UC9PE
Our Price: $13.71
Aruba 1 Year Renewal Foundation Care 4-Hour Exchange 501
#U3UJ8PE
Our Price: $18.00