Aruba MST200 Outdoor Wireless Mesh Access Router

Delivers High-Performance Outdoor Wireless Mesh Connectivity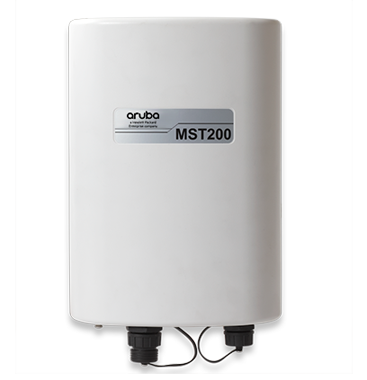 Overview:
The Aruba AirMesh MST200 outdoor wireless mesh access router delivers highperformance outdoor wireless mesh connectivity for remote locations and devices such as IP video surveillance cameras and digital signage.
Ruggedized and hardened to withstand extreme environmental conditions, the MST200 is ideal for providing 802.11n connectivity in metropolitan and industrial areas, oilfields, mines, shipping ports, traffic corridors and large public areas. Supporting data rates up to 300 Mbps, the MST200 a reliable and cost-effective alternative to cabling or fiber.
Running the Aruba MeshOS operating system, the MST200 features a single 5-GHz 2x2 MIMO radio with dual spatial streams and patented Adaptive Wireless Routing (AWR) technology. Together, these features offer unparalleled speed, reliability, and low latency for voice, video and other real-time multimedia-grade applications.
Pricing Notes:
Pricing and product availability subject to change without notice.
Aruba Networks Products
HPE Aruba Foundation Care Next business day Exchange for MST2HAC
Aruba 1 Year Foundation Care Next business day Exchange MST2HAC
#H4FC1E
Our Price: $154.00
Aruba 3 Year Foundation Care Next business day Exchange MST2HAC
#H4FC9E
Our Price: $416.00
Aruba 4 Year Foundation Care Next business day Exchange MST2HAC
#H4FF2E
Our Price: $539.00
Aruba 5 Year Foundation Care Next business day Exchange MST2HAC
#H4FH5E
Our Price: $655.00
Aruba 1 Year Post Warranty Foundation Care Next business day Exchange MST2HAC
#H4FK8PE
Our Price: $158.00
HPE Aruba Foundation Care Next business day Exchange for MST2HP
Aruba 1 Year Foundation Care Next business day Exchange MST2HP
#H4FM5E
List Price:
$141.00
Our Price: $135.79
Aruba 3 Year Foundation Care Next business day Exchange MST2HP
#H4FN3E
Our Price: $381.00
Aruba 4 Year Foundation Care Next business day Exchange MST2HP
#H4FQ6E
Our Price: $494.00
Aruba 5 Year Foundation Care Next business day Exchange MST2HP
#H4FS9E
Our Price: $599.00
Aruba 1 Year Post Warranty Foundation Care Next business day Exchange MST2HP
#H4FV2PE
List Price:
$141.00
Our Price: $135.79
HPE Aruba Foundation Care 4-Hour Exchange for MST2HAC
Aruba 1 Year Foundation Care 4-Hour Exchange MST2HAC
#H4FC2E
Our Price: $255.00
Aruba 3 Year Foundation Care 4-Hour Exchange MST2HAC
#H4FD0E
Our Price: $689.00
Aruba 4 Year Foundation Care 4-Hour Exchange MST2HAC
#H4FF3E
Our Price: $893.00
Aruba 5 Year Foundation Care 4-Hour Exchange MST2HAC
#H4FH6E
Our Price: $1,084.00
Aruba 1 Year Post Warranty Foundation Care 4-Hour Exchange MST2HAC
#H4FL1PE
List Price:
$255.00
Our Price: $245.56
HPE Aruba Foundation Care 4-Hour Exchange for MST2HP
Aruba 1 Year Foundation Care 4-Hour Exchange MST2HP
#H4FM6E
Our Price: $222.00
Aruba 3 Year Foundation Care 4-Hour Exchange MST2HP
#H4FN4E
Our Price: $599.00
Aruba 4 Year Foundation Care 4-Hour Exchange MST2HP
#H4FQ7E
Our Price: $777.00
Aruba 5 Year Foundation Care 4-Hour Exchange MST2HP
#H4FT0E
Our Price: $944.00
Aruba 1 Year Post Warranty Foundation Care 4-Hour Exchange MST2HP
#H4FV5PE
List Price:
$222.00
Our Price: $213.79