Aruba AP-205 Access Point

Bringing 802.11ac to the masses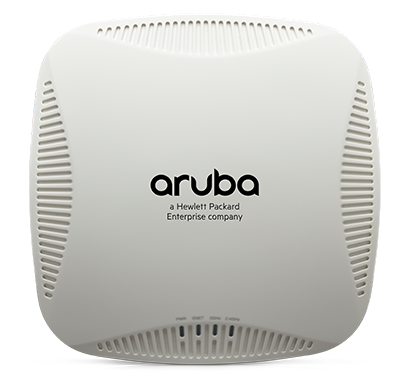 Sorry, this product is no longer available, please contact us for a replacement.
Overview:
Multifunctional and affordable Aruba 200 series 802.11ac wireless APs maximize mobile device performance in medium-density enterprise Wi-Fi environments.
These compact and cost-effective dual-radio APs deliver wireless data rates of up to 867 Mbps to 5-GHz devices with 802.11ac technology leveraging two spatial MIMO streams while simultaneously suppor ting 2.4-GHz 802.11n clients with data rates of up to 300 Mbps.
The AP-205 and IAP-205 models feature four integrated omni-directional downtilt antennas, while the AP-204 and IAP-204 support external detachable dual-band antennas using two RP-SMA antenna connectors.


Get a big performance advantage
Patented ClientMatch technology improves performance and eliminates sticky client behavior while roaming.


Protect service quality over the air
AppRF technology enables prioritization and policy enforcement for business-critical enterprise apps like Microsoft Lync.


You have the freedom to choose
The 200 series can be managed by an Aruba Mobility Controller or deployed in controllerless Aruba Instant mode.
Choose your operating mode
The 200 series APs offer a choice of operating modes to meet your unique management and deployment requirements.
Controller-managed AP or Remote AP (RAP) running ArubaOS.
When managed by Aruba Mobility Controllers, 200 series APs offer centralized configuration, data encryption, policy enforcement and network services, as well as distributed and centralized traffic forwarding. Please refer to the Aruba Mobility Controller data sheets for more details.
Aruba Instant AP running InstantOS.
In Aruba Instant mode, a single AP automatically distributes the network configuration to other Instant APs in the WLAN. Simply power-up on Instant AP, configure it over the air, and plug in the other APs – the entire process takes about five minutes.
For large installations across multiple sites, the Aruba Activate ser vice significantly reduces deployment time by automating device provisioning, firmware upgrades, and inventory management. With Aruba Activate, Instant APs are factory-shipped to any site and configure themselves when powered up.
If WLAN requirements change, a built-in migration path allows 200 series Instant APs to become part of a WLAN that is managed by a Mobility Controller.
Pricing Notes:
Pricing and product availability subject to change without notice.
Aruba Networks Products
HPE Aruba Foundation Care Next business day Exchange
Aruba 1 Year Foundation Care Next business day Exchange AP-205
Aruba 3 Year Foundation Care Next business day Exchange AP-205
#H3MM9E
List Price:
$84.00
Our Price: $81.20
Aruba 4 Year Foundation Care Next business day Exchange AP-205
#H3MQ2E
Our Price: $109.00
Aruba 5 Year Foundation Care Next business day Exchange AP-205
#H3MS5E
List Price:
$132.00
Our Price: $127.11
HPE Aruba Foundation Care 4-Hour Exchange
Aruba 1 Year Foundation Care 4-Hour Exchange AP-205
Aruba 3 Year Foundation Care 4-Hour Exchange AP-205
#H3MN0E
List Price:
$116.00
Our Price: $111.71
Aruba 4 Year Foundation Care 4-Hour Exchange AP-205
#H3MQ3E
Our Price: $151.00
Aruba 5 Year Foundation Care 4-Hour Exchange AP-205
#H3MS6E
List Price:
$183.00
Our Price: $176.23
HPE Aruba Services Renewal
Aruba 1 Year Renewal Foundation Care Next business day Exchange AP-205
#H3MU8PE
Our Price: $28.51
Aruba 1 Year Renewal Foundation Care 4-Hour Exchange AP-205
#H3MV1PE
Our Price: $43.30
Mounting Spares
Instant On AP Ceiling Rail Mount Kit
#JW044A
List Price:
$28.00
Our Price: $20.24
Mounting Accessories
AP-220-MNT-W3 White Low Profile Box Style Secure AP Flat Surface Mount Kit
#JY705A
List Price:
$55.00
Our Price: $36.50
Generic Indoor AP Accessories
AP-AC-12V30A 12V/30W AC/DC Desktop Style 1.7/4.0/9.5mm Circular 90 Deg Plug DoE Level VI Adapter 96
#JX989A
List Price:
$70.00
Our Price: $44.23
PD-3510G-AC 15.4W 802.3af PoE 10/100/1000Base-T Ethernet Midspan Injector
Includes US Power Cord
#JW627A#ABA
List Price:
$100.00
Our Price: $67.10