Aruba 5406R zl2 Switch (J9821A)

Performance and power for the mobile-first campus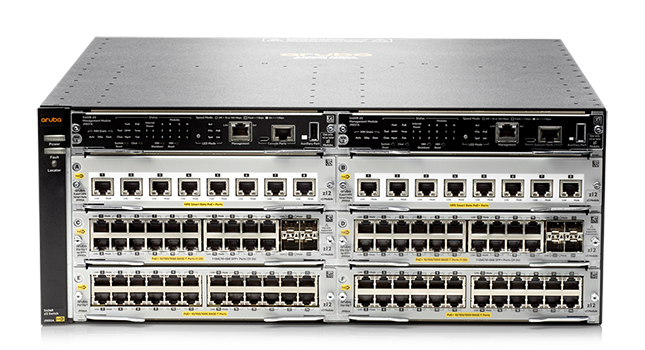 Looking for a better price? Call our Sales team today - 844-356-5141 or click here to request a quote.
Aruba Networks Products
Aruba Wireless Switches
Aruba 5406R zl2 Switch
#J9821A
List Price:
$3,429.00
Our Price: $2,465.11
Click here to jump to more pricing!
Overview:
The Aruba 5400R zl2 Switch Series is an industry-leading mobile campus access solution with HPE Smart Rate multi- gigabit ports for high-speed 802.11ac devices. It delivers enterprise-class resiliency with innovative flexibility and scalability for customers creating digital workplaces that are optimized for mobile users with an integrated wired and wireless approach. This series brings scalable aggregation with Virtual Switching Framework (VSF) stacking technology, hitless failover, and Fast Software Upgrade for 5400R VSF stacks. The advanced Layer 2 and 3 feature set includes OSPF, IPv6, IPv4 BGP, Tunneled Node, robust QoS and policy- based routing with no software licensing required.
Based on a powerful ProVision ASIC, the Aruba 5400R zl2 Switch Series has a high-speed, high-capacity architecture with 2 Tbps crossbar switching fabric with low 2.1µ latency, unprecedented programmability, and supports innovative SDN applications. This series offers flexible connectivity options with 6- or 12-slot compact chassis, line rate 40GbE, up to 96 line rate 10GbE ports and up to 288 ports of PoE+.
The 5400R is SDN optimized with OpenFlow support and is easy to deploy and manage with advanced security and network management tools like Aruba ClearPass Policy Manager and Aruba AirWave.
Key Features
Powerful Aruba Layer 3 modular switch series with VSF stacking, low latency and resiliency.
HPE Smart Rate for high-speed multi-gigabit bandwidth and PoE+ power.
Scalable line rate 40GbE for wireless traffic aggregation.
Optimized for innovative SDN applications with OpenFlow support.
Security and network management tools with ClearPass Policy Manager and AirWave support.
Pricing Notes:
Pricing and product availability subject to change without notice.
Aruba Networks Products
Aruba Wireless Switches
Aruba 5406R zl2 Switch
#J9821A
List Price:
$3,429.00
Our Price: $2,465.11
Aruba Wireless Switches Accessories
Aruba 5400R zl2 Management Module
#J9827A
List Price:
$3,549.00
Our Price: $2,551.38
Aruba 5400R 700W PoE+ zl2 PSU
Includes US Power Cord
#J9828A#ABA
List Price:
$1,139.00
Our Price: $818.82
Aruba 5400R 1100W PoE+ zl2 PSU
Includes US Power Cord
#J9829A#ABA
List Price:
$1,749.00
Our Price: $1,264.30
Aruba 5406R zl2 Switch Fan Tray
#J9831A
Our Price: $399.00
Aruba 5412R zl2 Switch Fan Tray
#J9832A
Our Price: $648.00