HPE OfficeConnect 1850 24G 2XGT PoE+ 185W Switch (JL172A)

Basic Gigabit smart managed with energy-savings capabilities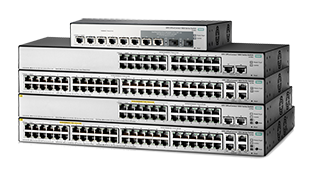 Looking for a better price? Call our Sales team today - 844-356-5141 or click here to request a quote.
Aruba Networks Products
HPE OfficeConnect Wireless Switches
HPE 1850 24G 2XGT PoE+ 185W Switch
#JL172A#ABA
Our Price: $1,195.00
Click here to jump to more pricing!
Overview:
HPE OfficeConnect 1850 Switch Series devices are basic smart-managed, fixed-configuration Gigabit plus 10 Gigabit Ethernet Layer 2 switches designed for small businesses looking for high performance in an easy-to-administer solution. The series is part of the OfficeConnect portfolio of Hewlett Packard Enterprise small business networking products.
The series consists of five switch models. Four are Gigabit switches each with 10-Gigabit 10GBASE-T uplink ports. One is an 8-port 10-Gigabit aggregator switch. Together, you can build a high bandwidth network with Gigabit edge port switches interconnected at 10-Gigabit speeds. Non-PoE and PoE+ models are available. The 24 port models include 2 10GBASE-T ports; the 48 port models include 4 10GBASE-T ports and an 8 port model includes 8 10GBASE-T ports with 2 dual-personality SFP+ ports. All HPE OfficeConnect 1850 Switches support flexible installation options including mounting on wall, under table, or on a desktop
These Gigabit switches are plug-and-play out of the box, yet network operation can be fine-tuned through features available from a simple web browser-based GUI, if necessary. Customizable features include VLANs, Rapid Spanning Tree, IGMP Snooping, link aggregation trunking and DSCP QoS policies. All models include the latest energy-saving capabilities, including Energy Efficient Ethernet (EEE) and idle-port power down. All models include variable speed fans operating only at the speed necessary to maintain operating temperature to reduce excess noise and power consumption by the switch. HPE OfficeConnect 1850 Switch Series includes a Limited Lifetime Warranty.
Key Features
10-Gigabit 10GBASE-T on all models for high-speed interconnect
Non-PoE and PoE+ 24- and 48 port models
8 port 10GBASE-T switch with 2 SFP+ dual-personality ports
Intuitive Web management interface for easy switch configuration
Limited Lifetime Warranty
Features and Benefits:
Performance and Reliability
The HPE OfficeConnect 1850 Switch Series offers choice and flexibility with a complete portfolio of Gigabit and 10 Gigabit basic smart managed Layer 2 switches.
The series consists of four Gigabit switches including PoE+ and non-PoE models, each with 10GBASE-T uplinks and one 8-port 10G aggregator switch with eight 10GBASE-T and two dual personality SPF+ ports that delivers 10G connectivity to the edge switches.
Spanning Tree Protocol (STP) and Rapid Spanning Tree Protocol (RSTP) provides redundant links while preventing network loops.
Easy-to-Use, Simple to Deploy and Manage
The HPE OfficeConnect 1850 Switch Series features an intuitive Web management interface with an enhanced navigation pane for easy management of devices by non-technical users. It is ideal for organizations that require simplicity.
Customizable features include VLANs, Spanning Tree, Link aggregation, and IGMP Snooping. All models include Rapid Spanning Tree Protocol (RSTP) and DSCP Quality of Service (QoS) policies.
These switches support flexible installation options, including mounting on walls, under tables or on desk tops.
Energy Efficiency and Lower TCO
The HPE OfficeConnect 1850 Switch Series include the latest energy-savings capabilities, including Energy Efficient Ethernet (IEEE), idle-port power down and PoE Port Scheduler.
All switches are covered by a Limited Lifetime Warranty.
Quality of Service (QoS)
The HPE OfficeConnect 1850 Switch Series traffic prioritization provides time sensitive packets (like VoIP and video) with priority over other traffic based on DSCP or IEEE 802.1p classification. Packets are mapped to eight hardware queues for more effective throughput.
Broadcast control allows limiting of broadcast traffic rate, to reduce unwanted network broadcast traffic.
IEEE 802.11p/Q delivers data to devices based on the priority and type of traffic.
Specifications:
| | |
| --- | --- |
| PoE Capability | 185 W PoE+ |
| Product Dimensions (metric) | 44.25 x 24.64 x 4.39 cm |
| Power Consumption | 222.9 W (maximum) |
| Switching Capacity | 88 Gbps |
| Product Differentiator (long) | Basic smart web managed 24-port Gigabit PoE+ switch with 10G uplinks. This model has 24x 10/100/1000 ports and 2x 10GBASE-T ports supporting 10-Gigabit Ethernet over copper cabling. It supports Power over Ethernet (PoE+) on the first 12 Gigabit ports with a power budget of 185 Watts. |
| Weight | 3.3 kg |
| Mangement Features | Web browser |
| Throughput | up to 65 Mpps |
| Input Voltage | 100 - 127 / 200 - 240 VAC, rated |
Documentation:
Pricing Notes:
Pricing and product availability subject to change without notice.
Aruba Networks Products
HPE OfficeConnect Wireless Switches
HPE 1850 24G 2XGT PoE+ 185W Switch
#JL172A#ABA
Our Price: $1,195.00