Aruba 1920S 24G 2SFP PPoE+ 185W Switch (JL384A)

Advanced Gigabit smart managed switch for affordable high-performance connectivity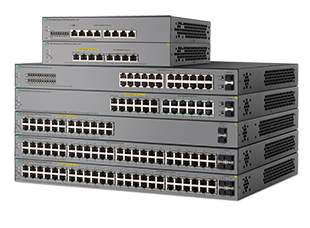 Sorry, this product is no longer available, replaced by the JL683A.
Overview:
The HPE OfficeConnect 1920S Switch Series consists of advanced smart-managed fixed-configuration Gigabit switches designed for small businesses in an easy-to-administer solution.
The series consists of seven switches including 8- 24- and 48-port Gigabit Ethernet switches and 8-, 24- and 48-port PoE+ models of which half the ports are POE+ capable. An additional 24-port PoE+ model is available that provides PoE+ on all 24-ports. All ports provide non-blocking Gigabit performance. Some models include SFP ports for fiber connectivity and the 8-, 24- and 48-port non PoE+ models are fanless, making them ideal for office deployments. All HPE OfficeConnect 1920S Switches support flexible installation options, including mounting on wall, under table, or on desktop. The 8-port Gigabit Ethernet model can be powered by an upstream Power over Ethernet switch for environments where no line power is available.
The series is part of the OfficeConnect portfolio of Hewlett Packard Enterprise small business networking products. These switches provide a great value, and includes features to satisfy even the most advanced small business networks. Customizable features include basic Layer 2 features like VLANs and link aggregation, as well as advanced features such as Layer 3 static routing, IPv4 and IPv6 Host mode, ACLs, and Spanning Tree Protocols. HPE OfficeConnect 1920S Switch Series includes a Limited Lifetime Warranty
Key Features
Customized operation using intuitive Web interface
Layer 3 static routing with 32 routes for network segmentation and expansion
Access control lists for granular security control
Spanning Tree Protocol: STP, RSTP, and MSTP
8-, 24- and 48-port non-PoE+ models are fanless for quiet operation
HPE Limited Lifetime Warranty