Aruba 8400 Switch [JL687A]

Modular, intelligent, and highly resilient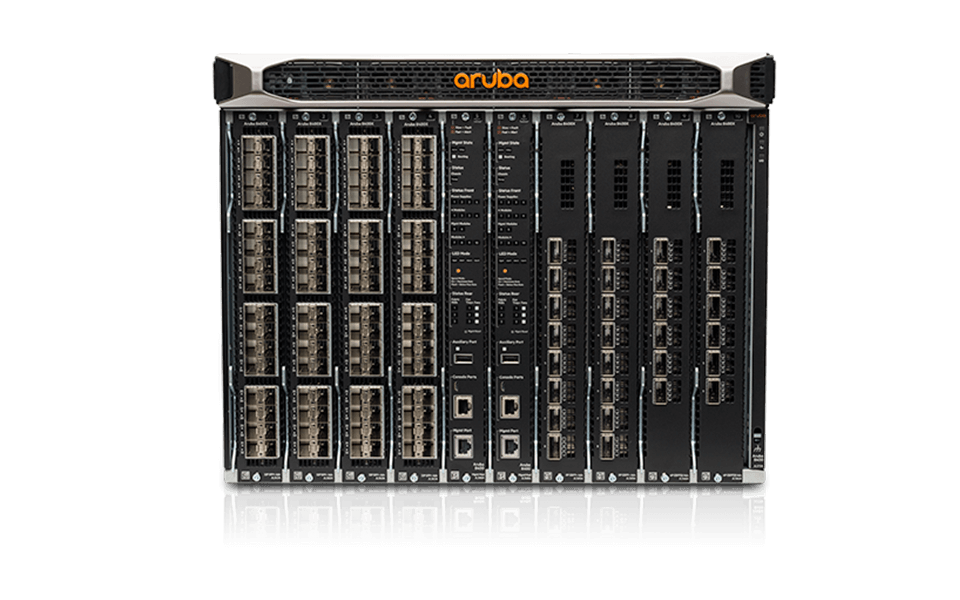 Looking for a better price? Call our Sales team today - 844-356-5141 or click here to request a quote.
Aruba Networks Products
Aruba Wireless Switches
Aruba 8400X-32Y 32-port 1/10/25G SFP/SFP+/SFP28 Module
Click here to jump to more pricing!
Overview:
The past several decades in networking have been defined by static, closed networking solutions designed for the clientserver era. The Aruba CX 8400 campus core and aggregation switch is a game-changing solution offering a flexible and innovative approach to dealing with the new application, security and scalability demands of the mobile-cloud and IoT era. The Aruba CX 8400 also serves as a data center switch in either a core/aggregation or a leaf/spine topology.
The 8400 provides carrier class high availability with industry-leading line rate 10GbE/25GbE/40GbE/100GbE connectivity in a compact 8 slot chassis. It provides up to 19.2 Tbps of switching capacity based on a fully resilient design that includes redundant fabric, management, power and fans to create a resilient, highly available network that is ideal for the most demanding campus core and data center networks.
Key Features
High performance 19.2 terabits per second switching (1.2Tbps/slot) capacity
Carrier-class high availability with Aruba Virtual Switching Extension (VSX), redundant management, power, and fabric
ArubaOS-CX enables automation and programmability using built-in REST APIs and Python scripts
Intelligent monitoring and visibility with Aruba Network Analytics Engine
Dynamic VXLAN with BGP-EVPN for deep segmentation in data center and campus networks
One touch deployment with the Aruba CX Mobile App
 Aruba NetEdit support for automated configuration and verification
Advanced Layer 2/3 feature set includes BGP, OSPF, VRF, and IPv6
Compact 8U chassis with high density, line rate 10GbE/40GbE/100GbE connectivity
Benefits
The Aruba CX 8400 provides the ultimate in modular design and flexibility to address the emerging application, security, and scalability demands of the mobile, cloud, and IoT enterprise.
Simplify your IT operations with AOS-CX
The Aruba CX 8400 Switch Series is based on AOS-CX, a modern, database-driven operating system that automates and simplifies many critical and complex network tasks. Delivering complete network configuration and assurance, Aruba OS-CX key innovations are its microservices-style modular architecture, REST APIs, Python-scripting capabilities, and the Aruba Network Analytics Engine.
No downtime, even during upgrades
Aruba Virtual Switching Extension (VSX) takes a new and innovative approach to solving high availability challenges by combining the best aspects of existing HA technologies, such as multi-chassis link aggregation (MC-LAG) and equal-cost, multi-path (ECMP) routing. Providing a distributed and redundant architecture, it's highly available, with minimal-to-zero traffic loss, even during software upgrades.
Accelerate IT provisioning
Aruba Fabric Composer, a smart, software-defined orchestration solution, simplifies operations, increases network speed, and enhances overall infrastructure provisioning.
Unparalleled visibility and analytics
Get real-time monitoring and troubleshooting with Aruba Network Analytics Engine (NAE). Embedded in every Aruba CX switch, NAE provides the necessary compute and storage to analyze any event that could impact network health. Offering intelligent pre-processing of data, it can turn raw telemetry into actionable insights.
Pricing Notes:
Pricing and product availability subject to change without notice.
Aruba Networks Products
Aruba Wireless Switches
Aruba 8400X-32Y 32-port 1/10/25G SFP/SFP+/SFP28 Module
Aruba 8400X 7.2Tbps Fabric Module
#JL367A
List Price:
$12,245.00
Our Price: $8,802.94
Aruba 8400 Management Module
#JL368A
List Price:
$18,365.00
Our Price: $13,202.61
Aruba X731 Fan Tray
#JL369A
List Price:
$3,845.00
Our Price: $2,764.17
Aruba 8400 Fan for X731 Fan Tray
#JL370A
List Price:
$1,215.00
Our Price: $873.47
Aruba 8400 1 Fan Tray and 6 Fans Bundle
#JL371A
List Price:
$8,685.00
Our Price: $6,243.66