Aruba 6405 96G CL4 PoE 4SFP56 Switch bundle (R0X29A)

High performance modular enterprise switches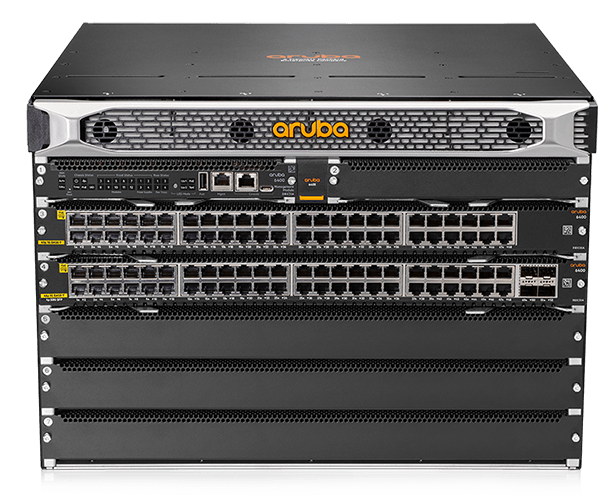 Looking for a better price? Call our Sales team today - 844-356-5141 or click here to request a quote.
Aruba Networks Products
Aruba Wireless Switches
Aruba 6405 96G CL4 PoE 4SFP56 Switch bundle (R0X29A)
Click here to jump to more pricing!
Overview:
The Aruba CX 6400 Switch Series is a modern, flexible and intelligent family of modular switches ideal for access, aggregation and core in enterprise campus and data center deployments. Created for game‑changing operational efficiency with built-in security and resiliency, the 6400 switches provide the foundation for high-performance networks supporting IoT, mobile and cloud applications.
Built from the ground up with a combination of cuttingedge hardware, software and analytics and automation tools, the 6400 switches are part of the Aruba CX switching portfolio, designed for today's enterprise campus, branch and data center networks. By combining a modern, fully programmable OS with the Aruba Network Analytics Engine, the 6400 switches provide industry leading monitoring and troubleshooting capabilities across the network.
A powerful Aruba Gen7 ASIC architecture delivers performance and robust feature support with flexible programmability for tomorrow's applications. The Aruba Virtual Switching Extension (VSX) allows for high availability, and also enables non-disruptive fast upgrades and simplified management. This flexible series offers powerful connectivity options in a 5 or 10 slot compact chassis with non-blocking 2.8Tb fabric per slot and high density IEEE 802.3bt high power PoE. HPE Smart Rate multi-gigabit Ethernet paves the way for high speed access points and IoT devices by delivering fast connectivity and high power PoE using existing cabling. Line rate interfaces include 1GbE, 10GbE, 25GbE, 40GbE, 50GbE1 and 100GbE.
Aruba Dynamic Segmentation extends Aruba's foundational wireless role-based policy capability to Aruba wired switches. What this means is that the same security, user experience and simplified IT management can be enjoyed throughout the network. Regardless of how users and IoT devices connect, consistent policies are enforced across wired and wireless networks, keeping traffic secure and separate
Key Features:
Powerful modular Layer 3 switches with BGP, EVPN, VXLAN, VRF, and OSPF with robust security and QoS
High performance switching with up to 28 Tbps with 11.4 Bpps
High availability with industry-leading VSX redundancy and redundant power supplies and fans
Full density HPE Smart Rate (1/2.5/5GbE) multigigabit, 60W PoE and SFP+ modules
High speed, non-blocking 1GbE, 10GbE, 25GbE, 40GbE, 50GbE1 and 100GbE
Intelligent monitoring, visibility, and remediation with Aruba Network Analytics Engine
Manage via single pane of glass with Aruba Central across wired, wireless, and WAN
Aruba NetEdit support for automated configuration and verification
Aruba Dynamic Segmentation enables secure and simple access for users and IoT
Benefits:
High performance modular enterprise switches
Ideal for use from edge access to core and into the data center, including spine-leaf architectures and EVPN-VXLAN fabrics.
Created for game‑changing operational efficiency with built-in security and resiliency for high-performance networks supporting IoT, mobile, and cloud applications
Cloud-based management
Built on a cloud-native microservices architecture, Aruba Central delivers full-service AI insights, security and unified infrastructure management for campus, branch, remote, and data center networks — all from a single pane of glass. It's network configuration and operations made simple.
Campus and branch fabric
The Aruba CX 6400 introduces a policy-driven segmented network solution with higher performance and scale with switch-to-switch tunnels using VXLAN and BGP EVPN. This offers the choice of tunnelling to the controller to use L4-L7 services or tunnelling to another Aruba switch for low-latency and high-performance use cases.
Unparalleled visibility and analytics
Get real-time monitoring and troubleshooting with Aruba Network Analytics Engine (NAE). Embedded in Aruba CX switch, NAE provides the necessary compute and storage to analyze any event that could impact network health. Offering intelligent pre-processing of data, it can turn raw telemetry into actionable insights.
Simplify your IT operations with AOS-CX
The Aruba CX 6400 Switch Series is based on AOS-CX, a modern, database-driven operating system that automates and simplifies many critical and complex network tasks. Delivering complete network configuration and assurance, AOS-CX key innovations are its microservices-style modular architecture, REST APIs, Python scripting capabilities, and the Aruba Network Analytics Engine.
No downtime, even during upgrades
Aruba Virtual Switching Extension (VSX) takes a new and innovative approach to solving high-availability challenges by combining the best aspects of existing HA technologies, such as multi-chassis link aggregation (MC-LAG) and equal-cost, multi-path (ECMP) routing. Providing a distributed and redundant architecture, it's highly available, with minimal-to-zero traffic loss, even during software upgrades.
Pricing Notes:
Pricing and product availability subject to change without notice.
Aruba Networks Products
Aruba Wireless Switches
Aruba 6405 96G CL4 PoE 4SFP56 Switch bundle (R0X29A)