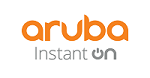 Aruba Instant On 1430 5G Switch (R8R44A)

Unmanaged switches designed for small businesses

Please visit our Aruba Instant On Online Store for detailed information and to purchase Aruba Instant On's products online.
Overview:
Aruba Instant On 1430 Switch Series
Perfect for small offices and home offices
Technology brings new revenue opportunities, more effective communication, and improved productivity to businesses of all sizes. Yet it also poses daily challenges of configuration and maintenance, especially for small businesses who lack IT support. Small offices and home offices need reliable network connectivity that's fast, configuration-free, and affordable for even the most budget-strapped businesses.
The Aruba Instant On 1430 Switch Series is a plug-and-play unmanaged switch series for small businesses looking for simple, reliable, and lowcost network connectivity. These easy-to-use switches deliver Layer 2 Gigabit Ethernet switching capabilities — at an affordable price point — to help connect and share common resources like printers and access points, without any complicated network configuration. With plug-andplay operation, fully automated functions, zero ongoing maintenance, and Power over Ethernet (PoE) models, these switches deliver simple, reliable connectivity for the smallest SMBs and home offices.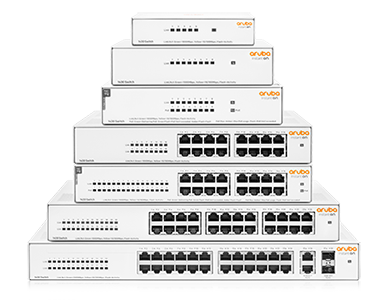 Simplicity at its best
Plug-and-play switches that work right out of the box
Zero configuration required

Reliable connectivity
Connect faster with Gigabit Ethernet speed
PoE to power devices like APs and IP phones

We've got you covered
Industry-leading limited lifetime warranty and support
24 x 7 chat support for entire warranty period
The Aruba Instant On 1430 Switch Series includes seven switches in PoE and non-PoE configurations: one (1) 5-port, two (2) 8-port, two (2) 16-port, one (1) 24-port, and one (1) 26-port model with 2 SFP uplinks models. With the PoE models, you get up to 30W PoE per port power delivery for Class 4 PoE devices like access points, surveillance cameras and VoIP phones. The 8-port and 16-port PoE models come with the power budget of 64W and 124W respectively to support the latest IoT devices. All switches are fan-less, making them ideal for acoustically sensitive areas, and unmanaged requiring no configuration (not managed by Aruba Instant On management).
Highlights:
Unmanaged Layer 2 Gigabit Ethernet switch series ready to deploy in 5-, 8-, 16-, 24-, and 26-port models
Up to 124W of PoE to power APs, IP Phones, and other IoT devices
No configuration or management needed
Plug-and-play with fully automated functions and zero ongoing maintenance
Quality of Service (QoS) and flow control for improved network efficiency
Fan-less with Energy Efficient Ethernet for low power consumption
Class B certified for home office networks (5 and 8 port models)
The Instant On Differentiators
Better Together
Aruba Instant On products work together to provide a seamless Wi-Fi experience. Wired and wireless voice traffic is prioritized with high QoS priority end-to-end for optimal voice performance.
Industry-Leading Support and Warranty
Expert-level support and industry-leading limited lifetime warranty are also included, along with chat support for the life of the product.
Aruba Instant On Warranty and Support Services
Aruba Instant On comes with a 2 year* warranty for access points and a limited lifetime warranty for the 1930 switches.
* WARRANTY & SUPPORT: Aruba Instant On 2-year warranty includes 24X7 phone support for the first 90 days and chat support for the entire warranty period. Community support is for as long as you own the products.
More info — Warranty & Support Services Datasheet
Foundation Care Solution Brief
Pricing Notes:
Pricing and product availability subject to change without notice.