Aruba AS-100 Wireless Sensor

Multivendor, Remote management for Aruba Bluetooth Low Energy Beacons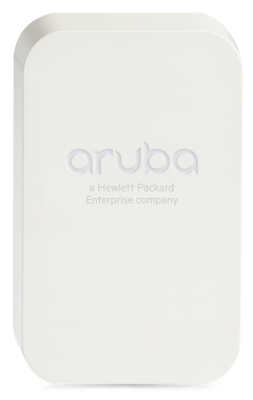 Overview:
Aruba Mobile Engagement enables venues to engage with visitors' mobile devices using Aruba Beacons powered by Bluetooth Low Energy (BLE) and the Meridian mobile-app platform. With Aruba Sensor (AS-100), Aruba, a Hewlett Packard Enterprise company, is now opening up its solution to additional Wi-Fi networks to create a complete offering for all public-venue customers.
The Aruba Sensor is a small, dual-band 802.11n client radio and a BLE radio that can act as an additional Aruba Beacon to power mobile engagement applications without battery power. Aruba Sensor also allows all enterprises - whether they are Aruba Wi-Fi customers or not - to remotely manage their Aruba Beacon deployments over their existing Wi-Fi infrastructure.
Dual band 802.11n 1x1 client radio (network connectivity)
Bluetooth Low-Energy (BLE) radio (indoor positioning, provisioning)
Advanced Cellular Coexistence (ACC)
Direct AC power plug-in, and option to power over USB
Lock and optional tamper-proof casing


Remote management tools
Easily manage Aruba Beacon data such as battery life, power settings, and security without having to go onsite.


Easily scale deployments
Turn your proof-of-concept into a multi-location deployment by pulling beacon data into one centralized location.


Works on any Wi-Fi
No need to alter your existing Wi-Fi infrastructure; Aruba Sensor connects as a client to your existing Wi-Fi network.
Pricing Notes:
Pricing and product availability subject to change without notice.