Aruba Location Services with Aruba Tags

BLE-powered Asset Tracking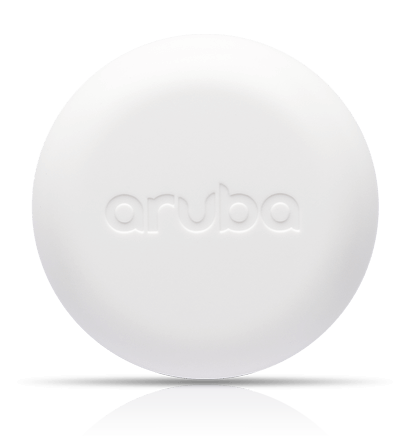 Aruba Networks Products
Aruba Tags
Aruba AT-BT10-50 BLE 50pk Asset Trk Bcn
#JX987A
List Price:
$2,464.00
Our Price: $1,771.37
Aruba Accessories
Aruba LS-BT1-NEMA Outdoor Mounting Bracket
#JW144A
List Price:
$62.00
Our Price: $44.56
Aruba Meridian AT-BT10 Snap Mount
#JZ113A
List Price:
$124.00
Our Price: $89.15
Aruba Meridian AT-BT10 Zip Strap Mount
#JZ114A
List Price:
$247.00
Our Price: $177.57
Click here to jump to more pricing!
Overview:
Aruba Tags are a key component of the Aruba Location Services portfolio and asset tracking solution. When used with the Aruba Meridian platform, Aruba Tags enable businesses to track valuable physical assets in their indoor and outdoor locations.
Based on Bluetooth Low Energy (BLE) technology (Bluetooth 4.0), Aruba Tags provide location data for each tagged asset within the range of BLE-enabled access points. By leveraging an organization's Wi-Fi network, Aruba Tags do not require a dedicated network of readers or observers.
Their design and size make them attractive in healthcare, retail, warehousing, and other industries.
Not currently running an Aruba wireless network? No problem. The Aruba Sensor includes a built-in beacon and the ability to manage Aruba Tags in any wireless environment.
Design Characteristics
Aruba Tags are small, low power wireless transmitters that broadcast 2.4GHz radio signals at regular intervals. These signals are heard by BLE-enabled access points, which act as observers and provide the sensory network. Tracking information is then sent to the Meridian cloud-based platform where location mapping allows for each asset to be viewed in its true location.
The form factor of Aruba Tags makes them easy to attach to valued assets – either with optional Aruba Tag carriers or without. A 2-year battery that is sealed and enclosed ensures that no maintenance is required.
Design Characteristics
The Aruba Tags Configuration App allows items to be easily tagged, regardless of where they sit. The iOS based app allows for staff to associate photos, descriptions and labels to each asset to populate the asset tracking database. Tags can also be moved between assets and re-labeled without bringing them to a central location.
A complete SDK makes it simple for users to locate assets with easy-to-use mobile apps that run on iOS and Android devices. There's no need for additional dedicated mobile devices. The use of the Meridian AppMaker solution provides a low-cost tracking app for those who do not have an existing app or asset management solution
Optional wayfinding capabilities can also be used to provide staff members with turn-by-turn directions to the asset being looked for.
Benefits:
Uses prevalent BLE asset tracking technology
A modern Wi-Fi installation provides necessary coverage
BLE-enabled Aruba AP's only require a firmware upgrade to support asset tracking
Solution is scalable to thousands of assets
2-year maintenance free battery
True location on map, not just general proximity
Tags are designed to endure stringent requirements, including medical use
Multiple attachment options support a variety of use cases and asset types
Pricing Notes:
Pricing and product availability subject to change without notice.
Aruba Networks Products
Aruba Tags
Aruba AT-BT10-50 BLE 50pk Asset Trk Bcn
#JX987A
List Price:
$2,464.00
Our Price: $1,771.37
Aruba Accessories
Aruba LS-BT1-NEMA Outdoor Mounting Bracket
#JW144A
List Price:
$62.00
Our Price: $44.56
Aruba Meridian AT-BT10 Snap Mount
#JZ113A
List Price:
$124.00
Our Price: $89.15
Aruba Meridian AT-BT10 Zip Strap Mount
#JZ114A
List Price:
$247.00
Our Price: $177.57