Aruba 1820 24G Switch (J9980A)

Basic Gigabit smart managed with intuitive web-based GUI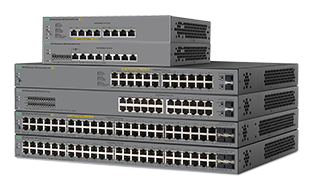 Looking for a better price? Call our Sales team today - 844-356-5141 or click here to request a quote.
Sorry, this unit has been discontinued and is no longer available for purchase, the recommended replacement product is - Aruba Instant On 1830 24G 2SFP Switch #JL812A.
End of Sale (EOS) : 7-Mar-2022 - EOS dates are dependent upon the continued availability of stock, we strongly encourage customers to transition new orders to the replacement product that is identified.
End of Support (EOST): N/A - After this date, all support services for the product are unavailable, and the product reaches End of Life.
Please Contact Us for stock availability, placing orders and/or better pricing.
Click here to jump to more pricing!
Overview:
HPE OfficeConnect 1820 Switch Series devices are basic, smart-managed, fixed-configuration Gigabit Ethernet Layer 2 switches designed for small businesses looking for key features in an easy-to-administer solution.
The series is part of the OfficeConnect portfolio of Hewlett Packard Enterprise small business networking products.
The series consists of six switches including 8-, 24- and 48-port Gigabit Ethernet switches and 8-, 24-, and 48-port Gigabit PoE+ models each providing non-blocking Gigabit per port performance. Some models include SFP ports for fiber connectivity and the 8-, 24-, and 48-port non PoE+ models are fanless, making them ideal for office deployments. All HPE OfficeConnect 1820 Switches support flexible installation options, including mounting on wall, under table, or on desktop. The 8-port Gigabit Ethernet model can be powered by an upstream Power over Ethernet (PoE) switch for environments where no line power is available.
These Gigabit switches are plug-and-play out of the box, yet network operation can be fine-tuned through features available from a simple Web browser-based GUI, if necessary. Customizable features include VLANs, Rapid Spanning Tree, IGMP Snooping, link aggregation trunking, and DSCP QoS policies. All models include the latest energy-saving capabilities, including Energy Efficient Ethernet (EEE) and idle-port power down.
Key Features
Customized operation using intuitive Web interface
Flexible deployment options including wall, under table, and desktop mounting
24- and 48-port models include SFP ports
8-, 24- and 48-port non-PoE+ models are fanless for quiet operation
Limited Lifetime Warranty
Pricing Notes:
Pricing and product availability subject to change without notice.