Aruba AirMesh MSR4000 Outdoor Wireless Mesh Router

Delivers High-Performance Wireless Mesh Routing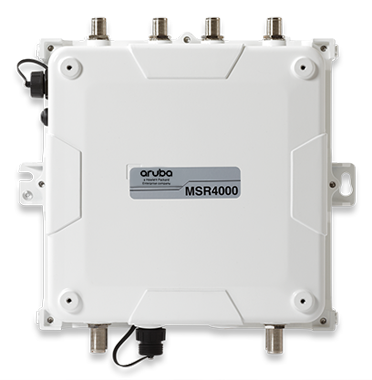 Overview:
The Aruba AirMesh MSR4000 delivers high-performance wireless mesh routing with the high capacity of the wired enterprise network infrastructure to outdoor environments.
Ruggedized and hardened to withstand extreme environmental conditions, the MSR4000 is ideal for deployment in metropolitan and industrial areas, oilfields, mines, and shipping ports.
A multi-radio, multi-frequency architecture and adaptive Layer 3 routing using the Aruba MeshOS operating system make the MSR4000 unique. Together, they provide unparalleled capacity, reliability, low latency and seamless handoffs for voice, HD-quality video and other real-time applications across long-distance outdoor wireless mesh networks.
Pricing Notes:
Pricing and product availability subject to change without notice.
Aruba Networks Products
HPE Aruba Foundation Care Next business day Exchange
Aruba 1 Year Foundation Care Next business day Exchange Mesh Radio 4 AP
#H4ES7E
Our Price: $484.00
Aruba 3 Year Foundation Care Next business day Exchange Mesh Radio 4 AP
#H4ET5E
Our Price: $1,307.00
Aruba 4 Year Foundation Care Next business day Exchange Mesh Radio 4 AP
#H4EV8E
Our Price: $1,694.00
Aruba 5 Year Foundation Care Next business day Exchange Mesh Radio 4 AP
#H4EY1E
Our Price: $2,057.00
Aruba 1 Year Post Warranty Foundation Care Next business day Exchange Mesh Radio 4 AP
#H4FA4PE
Our Price: $478.00
HPE Aruba Foundation Care 4-Hour Exchange
Aruba 1 Year Foundation Care 4-Hour Exchange Mesh Radio 4 AP
#H4ES8E
Our Price: $770.00
Aruba 3 Year Foundation Care 4-Hour Exchange Mesh Radio 4 AP
#H4ET6E
Our Price: $2,079.00
Aruba 4 Year Foundation Care 4-Hour Exchange Mesh Radio 4 AP
#H4EV9E
Our Price: $2,695.00
Aruba 5 Year Foundation Care 4-Hour Exchange Mesh Radio 4 AP
#H4EY2E
Our Price: $3,273.00
Aruba 1 Year Post Warranty Foundation Care 4-Hour Exchange Mesh Radio 4 AP
#H4FA7PE
Our Price: $770.00