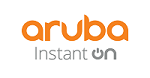 Aruba Instant On Access Points

Wi-Fi designed with small businesses in mind
Mobile devices and cloud-based applications such as Microsoft Office 365 are changing the way you engage with customers, suppliers and staff. Since it's tough enough to set up a up a new payroll system or choose the most effective point of sale solution – we believe choosing the best Wi-Fi for your business should be simple.
Whether you own a small retail store or a boutique shop, your employees and customers are relying on the network for almost everything they do. And because Wi-Fi plays such a crucial role today, you need a purpose-built solution that keeps your business on the go. Aruba Instant On Access Points (APs) are easy to deploy and manage – with a quality look and feel at an attractive price point.
Check out Aruba Instant On Product Demos
Key Features
Ingredients for success
Fast 802.11ac Wave 2, secure employee and guest access, easy-to-use web and mobile app management.
Say yes to guest access
No matter who, it's easy to offer a secure and customizable experience that's easy to setup and manage.
So simple, it's automatic
Automated software and security updates mean your network is always safe and secure.
New Aruba Instant On Products!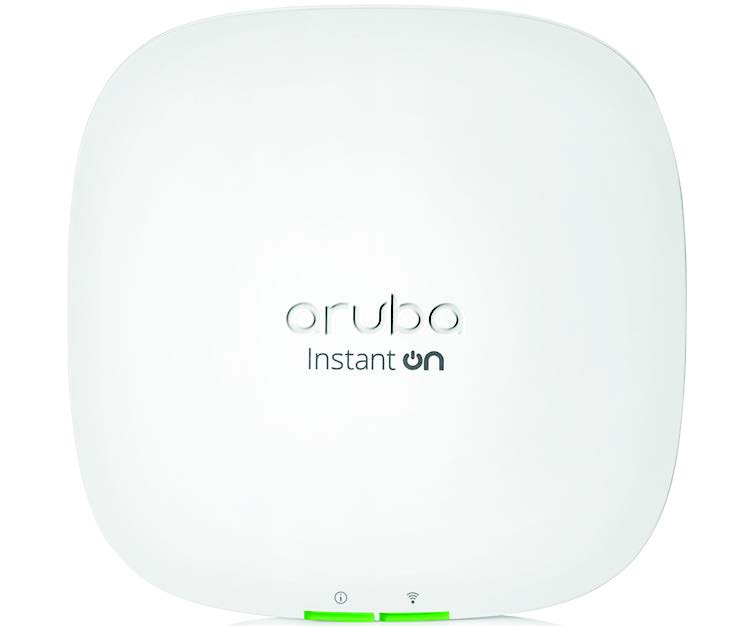 Designed for small retail stores and home offices
Max Data Rates: 1.7 Gbps
MIMO: 2x2
Radios: 2.4 Ghz and 5 Ghz 802.11ax (Wi-Fi 6)
Power: 802.3af PoE or 12Vdc
Ideal Deployment: SOHOs, boutiques, retail shops, home officies
Recommended max number of active devices per AP: 50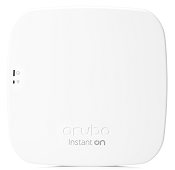 Designed for small retail stores and home offices
Max Data Rates: 1167 Mbps
MIMO: 2x2
Radios: 2.4 Ghz 802.11n (Wi-Fi 4) and 5 Ghz 802.11ac (Wi-Fi 5 Wave 2)
Power: 802.3af PoE or 12Vdc
Ideal Deployment: SOHOs, boutiques, retail shops
Recommended max number of active devices per AP: 50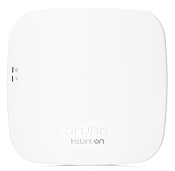 Designed for medium density small business environments
Max Data Rates: 1600 Mbps
MIMO: 3x3
Radios: 2.4 Ghz 802.11n (Wi-Fi 4) and 5 Ghz 802.11ac (Wi-Fi 5 Wave 2)
Power: 802.3af PoE or 12Vdc
Ideal Deployment: Medical offices, Cafés, restaurants or boutique hotels
Recommended max number of active devices per AP: 75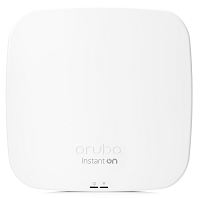 Designed for small business deployments with high-traffic and increased performance demands
Max Data Rates: 2033 Mbps
MIMO: 4x4
Radios: 2.4 Ghz 802.11n (Wi-Fi 4) and 5 Ghz 802.11ac (Wi-Fi 5 Wave 2)
Power: 802.3af PoE or 12Vdc
Ideal Deployment: Animation firms, tech start-ups
Recommended max number of active devices per AP: 100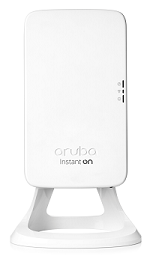 Designed for flexible and easy deployments which require an enhanced in-room Wi-Fi experience
Max Data Rates: 1167 Mbps
MIMO: 2x2
Radios: 2.4 Ghz 802.11n (Wi-Fi 4) and 5 Ghz 802.11ac (Wi-Fi 5 Wave 2)
Power: 802.3af PoE or 12Vdc
Ideal Deployment: Boutique hotels, SOHO, Medical offices
Recommended max number of active devices per AP: 50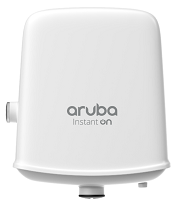 Designed for harsh outdoor environments
Max Data Rates: 1167 Mbps
MIMO: 2x2
Radios: 2.4 Ghz 802.11n (Wi-Fi 4) and 5 Ghz 802.11ac (Wi-Fi 5 Wave 2)
Power: 802.3af PoE
Ideal Deployment: Outdoor cafés, poolside, or open-air restaurants
Recommended max number of active devices per AP: 50