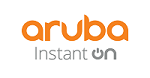 Aruba Instant On Series

The always-on network for the always-on business
Now more than ever, small business networks need to perform. Your network supports many of the same devices and applications that larger, enterprise networks do, but you don't have the IT staf or big budgets to install, confgure, and monitor your network to deliver the performance that employees and customers both rely on and expect. You need a simple networking solution that ofers blazing fast, secure connections at a price that doesn't break the bank.
Aruba Instant On Warranty and Support Services
Aruba Instant On comes with a 2 year* warranty for access points and a limited lifetime warranty for the 1930 switches.
* WARRANTY & SUPPORT: Aruba Instant On 2-year warranty includes 24X7 phone support for the first 90 days and chat support for the entire warranty period. Community support is for as long as you own the products.
More info — Warranty & Support Services Datasheet
Foundation Care Solution Brief
Aruba Warranty and Support Summary
Blazing-fast performance. Sets up in minutes. Secured for your peace of mind.
Ingredients for success.
Fast 802.11ac Wave 2, secure employee and guest access, easy-to-use web, and mobile app management.
Say yes to secure Wi-Fi access.
Pre-built access control lists (ACLs) and built-in firewall in the access points prevent malicious traffic from entering your network – we call it "hassle-free" security.
Never drop an important call.
With Instant On, voice and video business applications are automatically prioritized, so you stay connected with your peers.
Instant On Indoor Wireless Access Points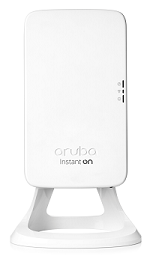 Boutique hotels, SOHO, Medical offices
802.11ac Wave 2 (Wi-Fi 5)
50 max active devices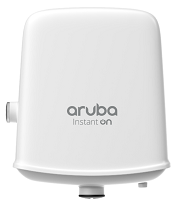 Outdoor cafés, poolside, or open-air restaurants
802.11ac Wave 2 (Wi-Fi 5)
50 max active devices
---
New Aruba Instant On Portfolio - Access Points + Switches
That means not only do you get fast and secure Wi-Fi connectivity for your guests and employees, but also an afordable and reliable switching solution for uninterrupted power to the IoT devices that run your business.
The Aruba Instant On 1930 Switch Series can empower you to do more. Affordable and easy-to-deploy, these smart-managed, fixed- configuration Gigabit switches are designed with the small business in mind.
Whether you own a small retail store or a boutique shop, your employees and customers are relying on the network for almost everything they do. And because Wi-Fi plays such a crucial role today, you need a purpose-built solution that keeps your business on the go. Aruba Instant On Access Points (APs) are easy to deploy and manage – with a quality look and feel at an attractive price point.
Explore Wi-Fi Solutions
A better way to Wi-Fi

Easy set up and management
The Aruba Instant On App makes your business Wi-Fi incredibly simple. Set up takes a few clicks—no tech experience needed. Monitor and manage your business network anywhere from your phone, and keep tabs on who is connecting to which sites and apps.

Blazing fast and wicked smart
Automatic data routing keeps all your info flowing on the fastest path. Automatic software updates keep your Wi-Fi operating at top speeds. If an error is detected, your network heals itself. Connect all your devices, even those with a wired connection, including POS terminals, security cameras, smart locks, printers, smart TVs, and more.

Security at no extra cost
Security shouldn't be an add-on; it's a must-have. It's included at no extra cost with Aruba Instant On. Easily separate business and employee traffic from customer traffic. Set hours for network availability and block specific sites and app categories to ward off malicious activity.
Key Features

Super-fast setup
Forget the hard-to-read user manuals.

Easy-to-use
Mobile app and web-based management.

Security you can trust
Industry-leading security and reliability.